10% Off

When Purchases More Than One Item

100% Satisfaction

Guarantee

Easy to make

Recipes

organic + gluten free

Rice
I just tried the Kofta Kebab spices for the first time today OMG it was the best I ever had and the best part it was so easy to use all I had to do is add 2 tablespoons of the spice to 1 pound of ground beef then ‏ mix it and barbecue that's it. I guarantee you'll not be sorry if you try it.

Khal Shurrab
Meet them at the 3rd Annual AACS Festival. Their products taste amazing! Very authentic. I'm glad I can just find what I need here instead of having to order some from over seas!

Ranoosh Ranoosh
Fresh spices and delicious zaatar . Thank you for this wonderful website. Much needed herein USA.

Yasmin Almasri
"Kidra Yellow Rice Spice (Saffron Rice)" Quite tasty. This added a great flavor to yellow rice. Would buy it again.

Joe M.
"Kofta Kebab Seasoning" First Timer. This spice mix is awesome! I have made 2 batches of Kofta so far playing around with different meat combinations and both turned out great...according to my coworkers.

Denise P.
"Kofta Kebab Seasoning" Not Just Good for Kebabs. I also used the seasoning to make stuffed peppers. Delicious.

John P.
Hey! I have been making Shish Kofta for about 40 yrs, using five spice, w/sumac etc. However, using your mix resulted in probably the best "bobs" I have made. Excellent flavor! Thank you

Mike Willis
They sent me a sample of Dukkah with my zaatar order.

It is delicious. I put it on rice, chicken and more. Will definitely order this seasoning mix.

I've been in the middle east many times and never tasted this before. Thanks for sending sample.

Lois Pathman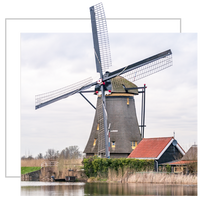 About Tahoon
Tahoon means windmill. Tahoon is based in Houston, Tx and has been preparing mouth watering spices since 2019. Each of your spices is made with fresh premium ingredients that give every dish that unforgettable authentic taste. All our spices are bought, prepared and packed right here in the USA.
Learn More